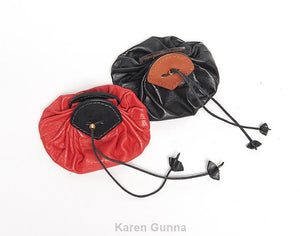 Medieval Leather Coin Pouch, Travel Jewellery Pouch
This lovely medieval leather coin purse is also great for storing pieces of jewelry while traveling, or on a nightstand. It is constructed of the softest leathers, and has drawstrings to gather it closed. Open, it measures around eight inches in diameter, and stands about four inches tall. The cord features small leather detailing at the ends, and a metal bead for closing.

Another group of people who love this bag are all those who play Dungeons and Dragons or other games where dice are used.